Analytical tools play a vital role in accumulating the knowledge needed to make decisions in many areas that directly affect our lives and health, including diagnostics, risk assessment and prediction, decision making in the healthcare and pharmaceutical industries.
How business intelligence helps fight COVID-19
Hospitals, research centers, academic institutions, pharmaceutical companies and consulting agencies around the world are joining forces to fight COVID-19. Here is how big data analytics, accumulated by many countries during the pandemic, supports them in this complex task: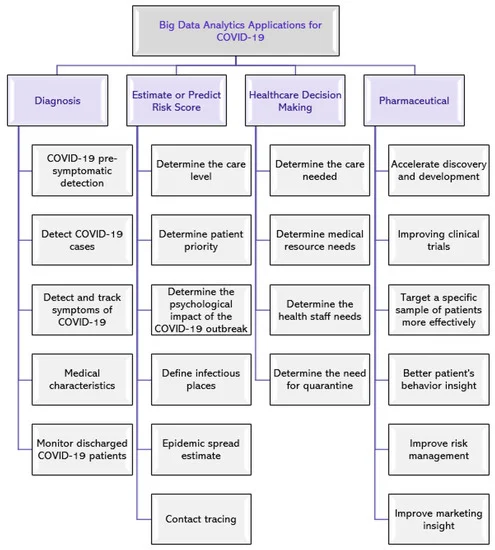 Source: Applications of Big Data Analytics to Control COVID-19 Pandemic
Predictive analytics is not only about analyzing statistical data on cases and morbidity specifics, but also building forecasts of epidemic development in a particular country, region, or locality. Thus, healthcare enterprises are able to determine in advance the required resources, including medical staff, hospital beds, ventilators, personal protective equipment, such as masks, gloves, gowns, and eye protection.
Data types and sources
Health data come from various sources. In addition to patient data obtained directly from hospitals, European and US organizations use data collected through portable/mobile device sensors or medical devices (activity, geolocation, psychological condition), online questionnaires, websites or mobile applications (e.g., flight and rail travel data), data from local and international healthcare systems (capacity of medical facilities, available staff), as well as records from open databases, websites and social networks (including mining of news, viral posts and other publications using AI).